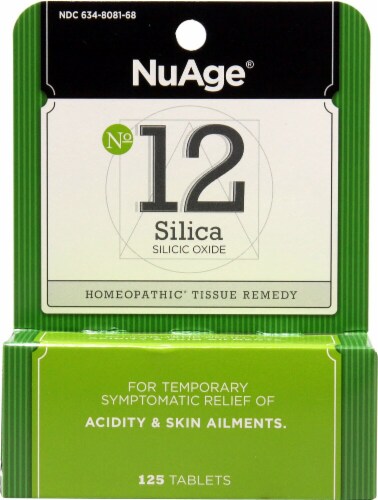 Hover to Zoom
Hyland's NuAge™ No. 12 Silica
125 Tablets
UPC: 0035497380818
Product Details
Silica is a natural cleanser and eliminator. It can often initiate the healing process by prompting suppuration and breaking up accumulations. Pus formations, brittle nails, lackluster nails, weak hair, and offensive perspiration of the feet and arm pits are all indications for Silica. Symptoms are generally worse at the beginning and end of the day, with cold, from washing and during menstruation, and better from heat and humid weather.
Indications: Acidity- Gastric disturbances, irritation of the skin and mucous membranes, twinges of rheumatism, headaches and a persistent feeling of tiredness, all are symptoms of acidity. Silica may be indicated by an upset stomach with gas, heartburn and chilliness. Skin Ailments-Silica may be indicated in skin conditions with thick, yellow discharges, itching in scalp, and falling of of the hair.
*These statements have not been evaluated by the Food and Drug Administration. This product is not intended to diagnose, treat, cure, or prevent any disease.
---