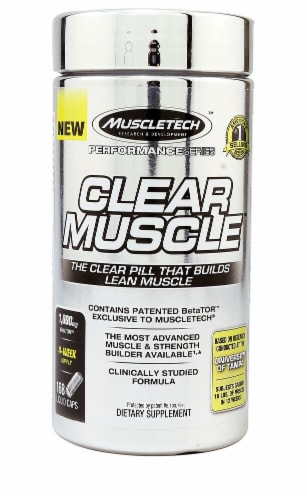 Hover to Zoom
MuscleTech Performance Series Clear Muscle™
168 Liquid Caps
UPC: 0063165660488
Product Details
Based on Research Conducted at the University of Tampa
Subjects Gained 16 lbs of Muscle in 12 Weeks
The Most Advanced Muscle & Strength Builder Available
Clear Muscle is a novel, never-before-produced supplement that supplies a revolutionary musclebuilding compound called BetaTOR, which is a unique, cutting-edge metabolite and free acid derivative of leucine and HMB. This one-of-a-kind compound unlocks the true potential of HMB for unprecedented bioavailability, effectiveness, and results. BetaTOR works to dramatically amplify protein synthesis through the mTOR pathway while simultaneously fighting catabolism by inhibiting the UPP pathway.
Subjects Gained 16 Lbs of Lean Muscle in a 12-Week Clinical Study
This result is extraordinary, yet this is the average muscle gain achieved by well-trained athletes supplementing with the exact dose of BetaTOR in Clear Muscle during an extreme 12-week training program at the University of Tampa. The placebo group only gained 4.6 lbs. Even better, subjects combined 1-rep max strength on the bench press, deadlift, and squat increased dramatically over the placebo group. These results are more impressive than any research conducted on protein, creatine, BCAAs or any other performance-enhancing supplement.
Take the 12-Week Challenge
Everyone''s potential is different, and because of that, your results may vary. Clear Muscle is a supplement designed to enhance lean muscle and strength gains based on the effort that you put into your own individual program. To maximize your results, use the exact same training proteocol as the subjects in the 12-week study.
*These statements have not been evaluated by the Food and Drug Administration. This product is not intended to diagnose, treat, cure, or prevent any disease.
---