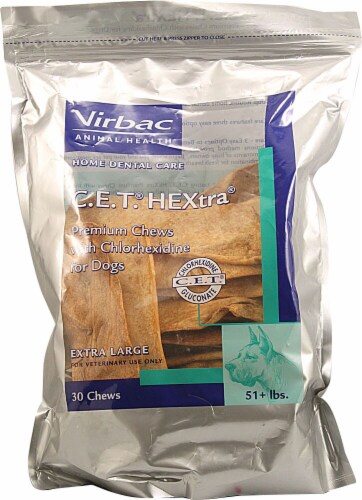 Hover to Zoom
Virbac C.E.T. HEXtra Extra Large Premium Chews with Chlorhexidine for Dogs
Product Details
Pets Have Teeth Too!
Home dental care is as important for your pet as it is for you. A program of oral hygiene and regular professional care may help prevent problems that might occur as the result of plaque and tartar buildup. Routine home dental care should be a part of every pet''s health are program.
C.E.T. Home Dental Care features three easy options to make pet oral health care as easy as 1-2-3!
C.E.T. Home Dental Care - 3 Easy Options to Better Oral Health
The C.E.T. 3 Easy Options method provides dental care for all pets, regardless of size, age, temperament, or time constraints of busy owners. Begin where you and your pet are most comfortable, or use all 3 options in combination for fresh breath, cleaner teeth and better health for your pet.
Good to Chew
As simple as giving a daily treat, great tasting C.E.T. HEXtra Premium Chews with the patented, exclusive Chlorhexidine System help remove plaque and reduce tartar. The antiseptic chlorhexidine system, combined with the natural abrasive cleansing action of C.E.T. HEXtra Premium Chews, helps to keep breath fresh and teeth clean. Use C.E.T. HEXtra Premium Chews daily as an oral hygiene option on those days when brushing isn''t possible.
Better to Rinse
Chlorhexidine-based C.E.T. Oral Hygiene Rinse and C.E.T. Oral Hygiene Gel can provide effective plaque control without brushing. Daily use of these antiseptic products make a great complement to the C.E.T. chew program. Ask your veterinarian to help design a program especially for your pet.
---